Finding the right business accountant near me, Duluth, GA, small businesses say is critical. A business owner and their team should look for an accounting firm that works well with them. Confidence in the accountant you select for your business is vital. So, do not underestimate the importance of selecting an accounting firm, CPA, or bookkeeper for your small business.
Accountants can help you plan by offering the financial expertise and direction needed to run your business successfully. Where to look for an accountant for your small business will depend on the work you need them to do. And the type of accountant you need to do those tasks. You can work virtually with a remote accounting service or physically in person with a local accounting firm. Business owners may hire a full- or part-time internal accountant or outsource some or all of their accounting services.
What Do You Want A Business Accountant Near Me To Do?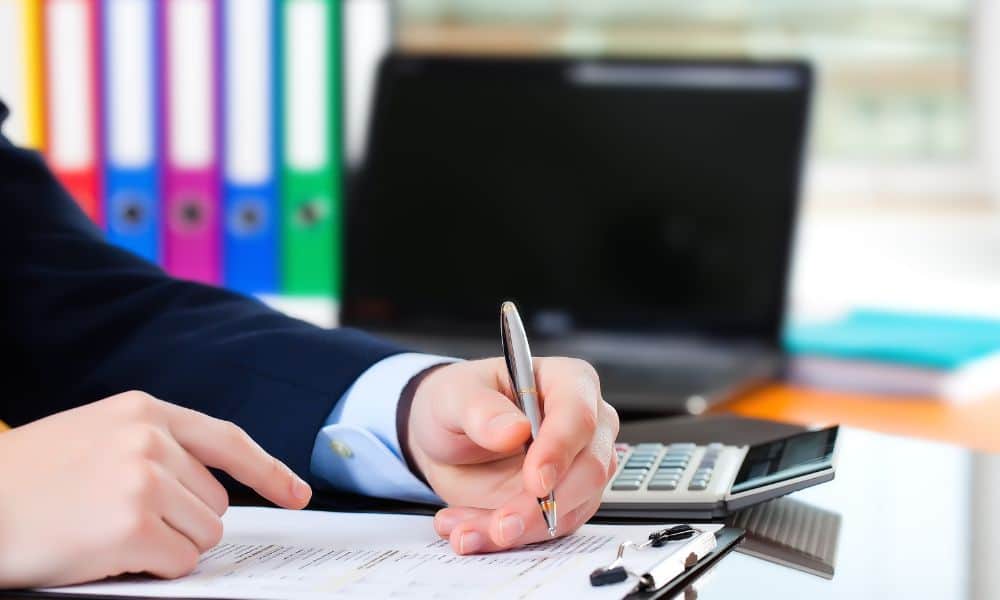 You might want an accountant who focuses on tax return filing, or you might prefer them to be involved in daily financial tasks. Depending on the tasks involved, the time requirement can be anywhere from a few hours a month to a full-time commitment. Here are a few accounting activities business accountants near me Duluth can help with or handle for you.
Accounting Software Setup
You could work with an accountant to customize accounting software for your industry if you recently purchased it and need assistance setting it up. To help you save time and money, they can also help you set up your chart of accounts, customize forms, and optimize the software.
Routine Bookkeeping
Many business owners put off doing bookkeeping tasks and fall further and further behind each day. An accounting service near me will take over your bookkeeping, including categorizing transactions and balancing accounts. The accountant can ensure that the categories for imported transactions are classified correctly. And should be able to link your bank account to your accounting software for accurate books. Additionally, you might want someone to manually reconcile your bank and credit card accounts after you input your transactions.
Payroll And Tax Services
Sales Tax Returns
It is in the best interest of any retail business to hire an accountant with experience with sales tax returns. The accountants in this field help businesses stay compliant and avoid fines, penalties, and audits. Finding the right accounting professionals to assist your business file sales tax returns on a quarterly basis is crucial.
Income Tax Returns
During tax season, a CPA or accountant can help you with tax credits and deductions as well as the preparation and filing of your personal and business income tax returns. However, a qualified tax accountant provides tax planning guidance and financial advice all year long, to minimize tax obligations for upcoming tax circumstances.
Payroll
Even though you might choose to work with an outside payroll service, a business accountant can assist you in handling employee payroll, including creating direct deposits, paying payroll taxes, and submitting quarterly and annual payroll forms.
Back-Office Duties
In addition, you can get a business accountant near me Duluth to assist with back-office duties like sending invoices and paying bills. These tasks may take a lot of time, depending on how many bills and invoices you receive. For some businesses hiring an internal bookkeeper in Duluth will be the right approach. Another choice is to utilize accounts payable software, for A/P tasks. Yet another possibility is to outsource back-office duties to an accounting firm near me, like Accounting Partners In Duluth.
Do You Want An In-house or Independent Accountant For Small Business Services?
If you want your accountant to handle a specific type of work, think about whether you have enough work to keep an internal or in-house accountant busy. Even though having exclusive access to their knowledge might be convenient, you might only need someone on a temporary basis. Additionally, bear in mind that it is trickier to outsource back-office duties like billing and paying bills than other jobs like categorizing transactions and balancing accounts.
Although you might choose to employ an internal accountant or bookkeeper, it is typical to have an outside CPA prepare your taxes. For this reason, a growing company would be wise to start by consulting with an independent accountant or accounting firm. A full-time employee's salary and benefits are frequently less expensive than those of an outside firm, and you might get better advice from a CPA or tax accountant.
An Internal Accountant will be able to respond to inquiries when necessary, streamlining communication. Moreover, internal accountants can support your business with back-office duties like billing and invoicing. however, it might be necessary for you to locate an outside resource to prepare your tax return.
Independent accountants are frequently less expensive in terms of salary and benefits than an internal accountant. small businesses. And independents are often the best choice for small businesses.
Do You Want An Online Or In-person Accounting Services For Your Business?
You must choose whether you want to work virtually or in person after deciding what you need from an accountant. An online accountant might be a good choice if you are at ease using technology. Online file sharing, phone calls, and video chats are frequently necessary in this kind of relationship.
Asking about their communication style and how the tasks will be carried out is important if you prefer to work with your accountant in person, whether that be at your office or their location. Their availability is another thing to consider. Can they work on their own schedule, or would you rather have someone available during specific times each day? Additionally, some accountants may charge you for mileage or phone calls, so be sure to get this information before hiring anyone.
Accounting services online enable greater flexibility for work that can be completed virtually. In addition, virtual accounting assistance reduces infrastructure costs such as office space, supplies, and utilities for an in-person accountant. Tech-savvy individuals can enable you to go paperless and work remotely if you choose.
Consider that a local business accountant near me Duluth that collaborates with you in person, may streamline communication. Most accountants will have set working hours on set days. You can specify the tasks they complete during those hours to meet the changing needs of your business.
There are many online accounting services available, and since they allow for communication and remote work, for many business owners this may be the perfect solution.
Does The Accountant Support Your Accounting Software?
You will have to use your small business accounting software to carry out some tasks unless you hire an internal accountant. This includes customer billing, bill entry and payment, and bank account reconciliation. Accounting software like QuickBooks Online, is a user-friendly option that can expand with your business.
Are You Looking for Small Business Accounting Expertise in Your Niche Industry?
Accounting for oil and gas focuses on the purchasing, exploring, developing, and producing processes. Capital expenditure, operating expense, and revenue recognition are the three core tasks that all oil and gas companies must complete, regardless of their geographic scope.
Restaurants need back-office and management tasks like employee scheduling, inventory taking, and cost management are all part of restaurant accounting.
Managing loads, dispatches, expenses, and orders is a skill that a trucking industry-focused accountant should possess. An experienced accountant should also be able to help with the International Fuel Tax Agreement (IFTA) reports that trucking companies are required to file.
Churches and nonprofit organizations are subject to strict regulations regarding financial planning, budgeting, reporting, and auditing. To provide reports to important stakeholders like the board of directors and donors, churches must also have reliable accounting systems.
Farm and ranch accounting experts should be able to set up cost centers to track profit and loss by farm units and manage inventory of supplies like feed and grain. The ability to monitor activities related to fixed assets is useful for your accountant as well.
Are You Planning To Evaluate Credentials?
You should confirm that an accountant has the necessary credentials before hiring them. If they identify themselves as a CPA, it means they have passed the exam and have been granted a license by your state. CPAs maintain their licenses by completing continuing education requirements and staying current on all federal, state, and local tax laws. Before making a choice, be sure review their references and try to speak to your prospective accountant's clients if possible. To determine whether they will be able to meet your company's changing needs, find out how their current clients have evolved over time.
Consider hiring a full- or part-time business accountant near me Duluth if your company's revenue has increased and transactions have grown more intricate. There are many ways to find an accountant, including asking for recommendations, researching customer reviews, and checking professional networks like LinkedIn.
Questions To Ask Potential Duluth Accountants
Focus on the prospective accountant's experience and availability, the size of their team, and whether they have any specialties if you are unsure of what questions to ask during your meeting.
How much small business accounting experience do you have?
You do not want someone with less than two years of business accounting experience if your accounting situation is complex. It is wise to work with a local accounting firm with extensive experience working with small businesses.
With whom will I be collaborating, and how will we speak?
Accounting firms and individual accountants frequently have team members, support personnel, and other staff. Before deciding if this is a good fit for you, find out the size of their company and the credentials of their team members.
It is best to work with a small accounting firm that can give you more individualized attention if your business is extremely small. You should also set expectations for how frequently and how you will connect through communication.
Are you accessible all year long?
You may not think about needing accounting help all year if you are looking for an accountant to complete and file your business tax return. But if something unexpected happens with your taxes and the IRS, you will want access to your accountant immediately, not just during tax season.
Can you represent me in the event of a tax audit?
If the IRS audits you, CPAs can represent you in court and speak on behalf of your company. Additionally, they can make sure you have the necessary paperwork and can inform you of what to anticipate during the audit process.
What are your rates and billing procedures?
It is appropriate to inquire about the accountant's rates and billing procedures. While some services may be billed on an hourly basis, others may have a flat rate charged by the job. Other accountants might demand a recurring fee. You can request an estimate in each situation to provide clarification and establish expectations.
Do you have any background in my field or industry?
It is best to look for a business accountant near me in Duluth who has specialized industry experience in your chosen field. These professionals will better understand the needs of your company. Also, find out if they have experience working with companies that have the same legal form as yours, such as a corporation, partnership, limited liability company (LLC), or sole proprietorship.
Accounting Partners Is The Answer
The decision to hire an accounting firm for your small business involves several factors. Once you have determined which tasks you need assistance with, you can choose between hiring an on-site accountant and one who works virtually. Numerous accountants have experience in your specialized field, but it is crucial that they hold legitimate credentials. You can use the questions we have provided to interview prospective accountants.
Accounting Partners is your custom accounting outsourcing. Our Duluth accounting, tax, bookkeeping, and other services are customized small business solutions. We are fifteen minutes up Interstate-85 north of the city of Atlanta directly off Peachtree Industrial Boulevard. Our office address is 3883 Rogers Bridge Road NW in Duluth, GA 30097. We are in Suite 501 and see clients in our office sometimes.
We also can come to you or meet with you virtually. Please call us at 678-990-0924 for a free consultation. We would love to make you a new accounting services Duluth client.