If your small business doesn't have one yet, here's why you should hire an accountant.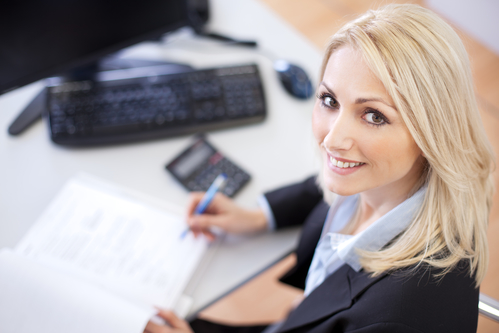 What's the big deal about having a small business accountant working for you? "What's not the big deal" should be the real question. It's a smart move, both money-wise and business-wise. Let's take a look at five reasons it's time to hire an accountant.
Reason #1: Free Up Your Free Time
How well do you know accounting? Enough to get by? Enough to have gotten your business to where it is now? That's great, but if you're not an accountant by trade, you have probably spent way more time on your financial management than you needed to. Your value lies in your ability to know your product or service and to run your business so it thrives and grows. By hiring an accountant or an accounting firm, you will free up all that time that you were spending on keeping your books balanced and your taxes completed. You'll focus on things that matter, like customer service, taking care of your employees, and sales.
Reason #2: Reduce Overhead and Expenses
Consider how much it costs you to have an employee on your payroll. It isn't just the paycheck that's coming out of your pocket; it's also the desk space, the vacation time, the benefits, the sick days, and all the other expenses that go along with having employees. Hiring an accounting firm means you don't have to spend the money on an additional employee. And not only that, but an accountant can help you cut back or revise your budget in ways that make sense and benefit your bottom line.
Reason #3: Taxes, Taxes, Taxes
When your business is small, it's possible to handle the taxes on your own. As your company grows, you have more considerations when it comes to your taxes. Things such as payroll, regulations, and deductions make tax filings more complex. An accountant can lend you their experience and knowledge of taxes and tax laws to help you take advantage of all potential deductions without raising red flags. They can help you stay organized throughout the year and ensure you comply with any changes to tax codes. And most importantly, they can help make sure you're filing correctly and on time, every time.
Reason #4: Put the Fore in Your Casting
Forecasting is vital to making plans – marketing plans, budgeting plans, hiring (and firing) plans, all kinds of plans. But forecasting is an art and a science. It informs you of the potential future within which your company will operate. Accountants can help you create the data sets that will enable analysis of what's to come shortly, so you can plan accordingly.
Reason #5: Boosting Income and Income Potential
Income is the name of the game, and having steady cash flow is critical to the success of any business. One of the most significant benefits of a financial accountant on your team is their ability to help you develop your revenue stream. They can help you regulate it so you can better manage your accounts receivable, debt collection, investment decisions, inventory, and budgeting. Guidance when working to maximize your income will pay for itself over and over again.
Not yet convinced that hiring an accounting firm is what's best for your business? Also keep in mind that an accountant can help you with year-end reporting, managing your cash flow, handling tax audits, keeping you informed on regulatory changes, helping you effectively manage payroll, and keeping your books up to date and accurate throughout the year. And if that doesn't convince you, just take our word for it. It's time. Click or call 678-990-0924 for a free consultation to learn how a small business accountant can help your business.